microPeek Blue
CHF

249.00
Sold out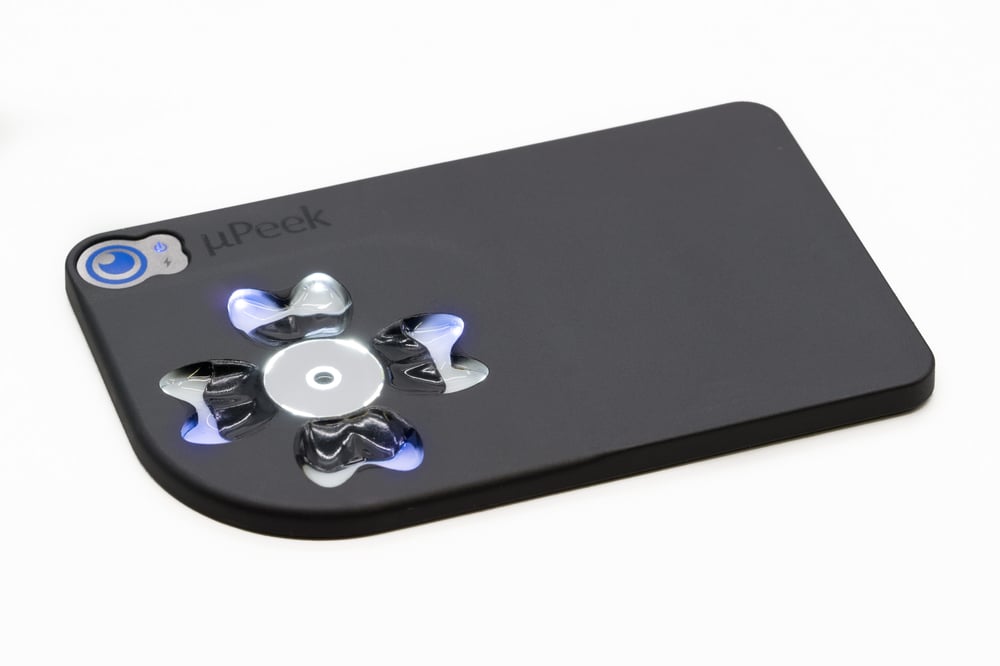 microPeek is a credit card sized microscope that connects wirelessly to your smartphone or tablet.
Standout features are:
- High resolution down to 1.5 micrometer
- 4-element lens for undistorted high-contrast images
- Stable platform for steady focus and handsfree operation
- Splashproof device for easy cleaning and rugged field-use
- Sophisticated illumination optics enabling brightfield and darkfield illumination.
- UV light for fluorescent microscopy
- Bluetooth low energy for quick connection to smartphone
- Userfriendly app for easy operation, yet offering powerful manual control features and microscopy tools
The microPeek microscope is attached to the smartphone by a (washable) elastic stickypad and fits on most smartphones running iOS or Android, like iPhone, Samsung, Sony, LG, HTC and many more. For Android, at least version 5.0 and support for Bluetooth Low Energy is required.
microPeek supports work with standardized microscope slides (75x25x1 mm) by providing a precision slide holder. The holder fixes the slide in position and contains surface regions that improve the uniformity of specimen illumination in the different microscopy modes.
Discover the microcosm in all its facets wherever you are.
Technical Specifications for microPeek blue:
- microPeek Dimensions : 94 x 59 x 4.5 mm
- microPeek Weight : 37 g
- Slide Holder Dimensions : 103 x 59 x 3.5 mm
- Slide Holder Weight : 25 g
- White LED's : 5000 K, Brightfield, Darkfield
- UV LED's : 385 nm, Darkfield
- Filter : longpass detection filter (420 nm cutoff)
- Resolution : approx. 1.5 micrometer (depending on smartphone)
- Motorized Focus Travel : 0.2 mm (at least)
- Working Distance : 0.5 mm (at full motor extension)
- Maximum Field of View : approx. 2 mm (depending on smartphone)
- Battery : Lithium Polymer 450 mAh
- Protection : dust and splash proof (IP65)
- Operation Temperature : 0 - 40 degree Celsius
- Relative Humidity : max 95% (non-condensing)
- Software : microPeek app for iOS and Android (free of charge)
Package Contents:
- microPeek Microscope
- Soft Pouch
- Slide Box (3 specimen, 2 empty)
- Cover Glass (25 pieces)
- Slide Holder
- Micro-USB Cable
- Stickypads (4 large for device, 4 small for tablet spacer)
- Microfiber Towel (2 pieces)
- Tablet Spacer
- User Guide
Made in Switzerland.
Insured shipping, expected delivery time: 2-7 days for Switzerland, 7-14 days for USA and EU, 2-3 weeks for the rest of the world.
Please contact us for other payment options if needed.
Currently in stock